How to conceal the Spotlight Hole in a Tahoe PPV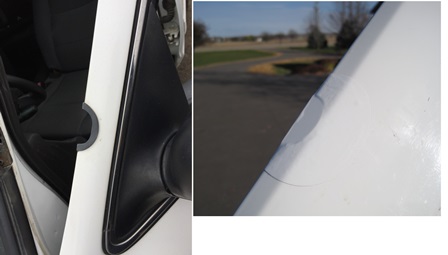 To begin, there are two different Spotlight installation approaches for the Police Tahoes. This article will discuss the 2007-2014 as it relates to the "C" notch in the door frame(s), and the A-Pillar windshield post mounted spotlight on the 2015-2020 Tahoe PPV. Here are two examples for reference.
| | |
| --- | --- |
| | 2015-2020 Tahoe PPV A-Pillar |
First of all, as a former Auto Body Technician, my experience is that the best approach to either of the above is to have your body shop fabricate a patch from sheet metal and wire weld it in place, then fill, prime and Basecoat/Clearcoat refinish. This is the most costly of all the options to be discussed here. A trip to your friendly neighborhood body shop for a rough estimate for a correct repair/refinish might be an option if you want to keep this option on the table for a near perfect looking job.
Nenno Products offers an economical C-Notch Style Concealment Spotlight Patch Solution for the 2007-2014 Tahoe, P/N TAH-PTCH0714 which consists of a plastic filler notch that can be sanded to conform to fill the notched out section and a specially shaped die cut vinyl adhesive wrap cover. These adhesive patches are available in gloss white and gloss black. They are not considered paintable. Regarding installation, it does require a little effort to drill the head off of the pop rivet on the back side of the door frame that holds the rubber gasket in place so it can be removed. The outer vinyl adhesive patch is only a few thousandths thick which means it is not very conspicuous, but very unforgiving if you don't get the area completely free of burrs or contamination. It can't be emphasized enough as it states in the instructions that the surface has to be completely and thoroughly clean before adhering any of our body patch products.
For 2015 through 2020 Tahoe PPV's, we are seeing the A-Pillars being strangely distorted under the Spotlight Mounting Brackets (visible in the above photo). Our regular Windshield Post Spotlight Patch P/N PVWPSHP self-adhesive urethane offering priced for any budget is a good fit for these years of Tahoe. This same Patch is widely used on Police Charger and Impala. It will conform to the contour of the A-Pillar on these newer Tahoes, although it will conform some to the distortions as well. If your A-Pillar has significant deformation where the spotlight bracket was mounted, we recommend having this area professionally repaired by any qualified Auto Body Technician. If you prefer to defer this option, our patch is the premier solution and available in gloss white or gloss black. Just like all our other Urethane Patch Products, they can be painted to match body color using standard auto refinishing products and techniques.
As a postscript, the subject of inside hole patches for the interior pillar trim is something we often get requests for. As of this date, our lead engineer on this has exhausted the various automotive adhesives that could be used to attach a stick on patch to the inside. There are extreme temperatures in play here, especially in the warmer summer climates where a locked vehicle with all the windows closed can reach crazy high temperatures. We simply don't have an adhesive that we feel confident in to produce an inside patch solution. Stay tuned, there could be advancements in the months or years ahead that could prove viable for this application. In the mean time, an inside pillar trim can be sourced from any salvage yard/recycler from a civilian model without the spot hole. Check out our blog entiled: Using on-line Used Auto Parts Sites to find parts for your former cruiser for helpful tips on locating parts in specific regions of the country.